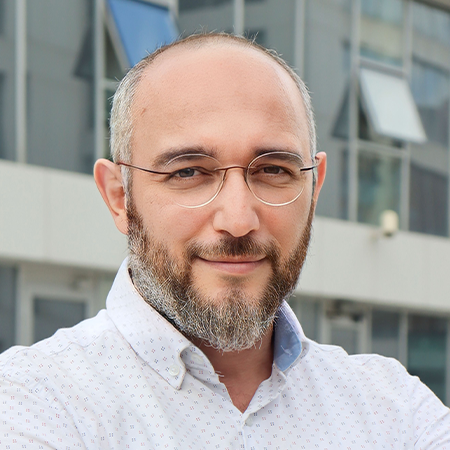 Emrah Eroğlu is Principal Investigator at Istanbul Medipol University and the Deputy Director of the Research Institute for Health Sciences and Technologies (SABITA) in Türkiye. With a background in biotechnology and molecular biology, Eroğlu is a dedicated researcher focused on developing innovative tools and techniques to gain insights into cellular processes at the single-molecule level.
Eroğlu's research laboratory at Istanbul Medipol University is at the forefront of developing genetically encoded biosensors and chemogenetic tools. These advancements allow for the visualization of reactive oxygen species (ROS) and reactive nitrogen species (RNS) dependent pathways in vascular cells. By studying these pathways, his team aims to understand their implications in signaling processes, particularly in the context of vascular cells and their connection to neurodegenerative diseases.
Throughout his career, Eroğlu has made significant contributions to the field of biosensors and chemogenetic tools. He has published numerous original research papers and review articles on these topics. His expertise extends to the development of multiparametric high-content imaging approaches, which enable the simultaneous study of multiple signaling molecules.
Eroğlu's academic journey includes notable positions at prestigious institutions. He served as a Postdoctoral Fellow at Harvard Medical School and MedUni Graz. In 2019, he joined Sabancı University as a Faculty Member and established a live-cell imaging laboratory. In 2022, Emrah relocated his lab to Istanbul Medipol University to collaborate with partner labs at SABITA, a premier research facility and high-end imaging core in Eurasia.
His accomplishments have been recognized with several awards. He was granted the EMBO Installation Grantee by the European Molecular Biology Organization in 2023. In 2022, he received the Leopold Flohé Redox Pioneer Young Investigator Award from SFRR-E & OCC. Emrah was also honored with the Young Scientists Award Program (BAGEP) by the Science Academy Turkey in 2020. His work has been acknowledged through prestigious fellowships, including the Erwin Schrödinger Fellowship from FWF and the TUBITAK 2232 International Fellowship for Outstanding Researchers.
As an active member of the scientific community, Emrah Eroğlu holds memberships in organizations such as the American Heart Association (AHA), Society for Free Radical Research Europe (SFRR-E), and the Austrian Association of Molecular Life Sciences and Biotechnology (ÖGMBT). He has also served as a peer reviewer for esteemed journals like Scientific Reports, FRBM, Biosensors, Redox Biology and more.
In addition to his research contributions, Eroğlu is on the editorial board for Redox Biochemistry and Chemistry and Free Radical Biology and Medicine.
Emrah Eroğlu's commitment to scientific advancement, coupled with his deep expertise in biosensors, chemogenetic tools, and ROS pathway research, has firmly positioned him as a regarded figure in the field. With humility and a collaborative spirit, he strives to unravel the intricacies of cellular signaling, aiming to contribute to the development of innovative therapies and interventions for vascular dysfunction and neurodegenerative diseases.